Falcon 9 sends JCSAT-14 to Orbit, self to Drone Ship
---
On Friday, May 6th, 2016, SpaceX launched the JCSAT-14 satellite to a Geostationary Transfer Orbit (GTO) on behalf of customer SKY Perfect JSAT Group. The mission was launched atop the Falcon 9 FT rocket from Space Launch Complex 40 in Cape Canaveral Florida. The JCSAT-14 satellite will provide customers in Japan, East Asia, Russia, Oceania, Hawaii, and Pacific islands with support for data networks, mobile telecommunications and television broadcasts.
This mission marked the second 2016 launch for a SpaceX commercial customer, the fourth flight of the Full Thrust Falcon 9, the second successful drone ship recovery, and the first successful recovery of a booster delivering a payload to GTO. Concerns about weather in Florida during the planned countdown window spanning May 4-5 led to SpaceX delaying the launch by 24 hours, with the rocket lifting off into clear nighttime skies at 1:20am, the opening moments of a planned two-hour launch window.
Roughly nine minutes following liftoff, SpaceX reported (via their live webcast) that the Falcon 9 first stage had successfully landed aboard the Autonomous Spaceport Drone Ship (ASDS), holding station in the Atlantic Ocean. Prior to launch, CEO Elon Musk had only given 50/50 odds that the landing would be successful, given the higher energy re-entry resulting from the farther distance at which the satellite was being delivered. Video footage during the landing showed a momentary 'white-out' of the stream, followed by a closeup of the lower portion of the Falcon 9 rocket, perched just over the painted "X" on the deck of the ASDS, with the center Merlin 1D engine slowly burning out the last of its propellant.
Observers along the Space Coast were treated to the sight of the Falcon 9 first stage booster returning to Port Canaveral late Monday evening / early Tuesday morning. Port regulations have required that the ASDS bearing the Falcon 9 rocket wait outside the entrance to the port until the majority of marine traffic has subsided for the night. This recovered rocket will also be removed from the port and transported to SpaceX's new hangar facility at Launch Complex 39A, to be inspected and eventually flown again on a future launch.
Photos
---
Falcon 9 / JCSAT-14 Return to Port
---
Falcon 9 / JCSAT-14 Launch
---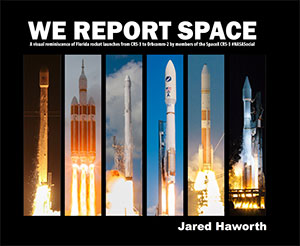 The Book
Stunning, full color photo book covering every east coast launch spanning 2014-2015, including the first-ever powered landing of a SpaceX Falcon 9 rocket.
More Info