SpaceX Falcon 9 Returns to Port
---
SpaceX's Falcon 9 rocket made it's triumphant return to Florida early this morning, arriving in Port Canaveral shortly before 2am local time on April 12, 2016. While it took the rocket just nine minutes to travel the 300 kilometers from its launchpad at Space Launch Complex 40 to the Autonomous Spaceport Drone Ship, the return journey took slightly longer, since the towing speed of "Of Course I Still Love You," SpaceX's drone ship landing platform, is just a bit slower than the speeds Falcon 9 achieves at liftoff.
April 12th is a day rich with meaning for fans of Spaceflight. Cosmonaut Yuri Gagarin became the first human being to orbit the Earth on this day in 1961. Twenty years later (and thirty five years ago today), NASA's Space Shuttle Columbia launched on its first mission, carrying John Young and Robert Crippen into space aboard the world's first reusable spaceplane. And now, April 12th will carry special meaning for a new generation of space fans (many of whom stayed up late into the night waiting for news of the arrival), as it marks the day that SpaceX's Falcon 9 booster comes home from the first successful at-sea landing of a powered rocket, and heralds a new era of reusable spacecraft.
While the first-ever SpaceX powered landing prize still rests with the Orbcomm OG2-M2 rocket, CEO Elon Musk has made it clear that this rocket, used for NASA's CRS-8 mission, is on track to become the first rocket to launch, successfully deliver a payload to orbit, land under its own power, then do it all over again.
Photos
---
SpaceX Falcon 9 Returns to Port (Michael Seeley)
---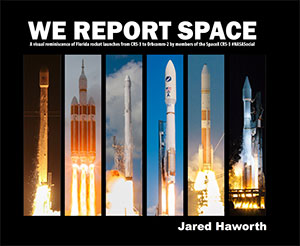 The Book
Stunning, full color photo book covering every east coast launch spanning 2014-2015, including the first-ever powered landing of a SpaceX Falcon 9 rocket.
More Info