Jared: Orbital ATK Antares Media Day at NASA's Wallops Island
---
Coming right on the heels of Orbital ATK's Cygnus capsule being launched to the International Space Station aboard a ULA Atlas V rocket, NASA's Wallops Flight Facility, the Mid-Atlantic Regional Spaceport (MARS) and Orbital ATK hosted members of the media on December 17th for a briefing on the status of Launchpad 0A and the Antares rocket following October 2014's ORB-3 explosion.
Virginia Space, along with Orbital ATK were happy to report that Launchpad 0A is ready for operations once again, following a $15 million renovation to repair damage and upgrade capability. Standing atop the mounting ring on the launchpad, it was impossible to discern that a major explosion had taken place here just 14 months earlier. The only remaining tell-tale sign of the incident was a small, diagonal PVC pipe leading into the former location of the explosion crater, to allow further environmental monitoring, but aside from that near-insignificant detail, MARS 0A is ready for business.
Members of the press were then invited inside Orbital ATK's horizontal integration facility to view the upgrades being made to the Antares rocket. On display were two Antares first stage cores, one intended for use in a March 2016 static fire test on the launchpad, the other intended to be used for the OA-5 mission to the ISS in May 2016. Also visible in the facility were four RD-181 main engines, the new power plant for Antares's redesigned first stage. These RD-181 engines replace the AJ-26 engines determined to be at fault in the October explosion. In the gallery below, the engines for the static test are already attached to its core stage, and the engines earmarked for the OA-5 mission are in transportation enclosures on the floor. Following the static test fire and launch of OA-5, the core used for the test will be prepared for launch as mission OA-7 in fall 2016.
Photos
---
Orbital ATK / Antares Media Day
---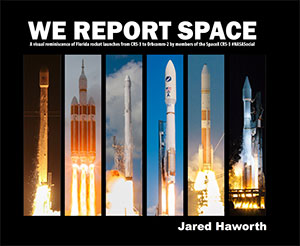 The Book
Stunning, full color photo book covering every east coast launch spanning 2014-2015, including the first-ever powered landing of a SpaceX Falcon 9 rocket.
More Info