Jared: Atlas V / Orbital ATK Cygnus OA-4 CRS-4 Launch
Rain and wind kept the United Launch Alliance Atlas V launch vehicle strapped down to the launch pad a little bit longer than intended, but the Orbital ATK Cygnus cargo freighter was finally lofted to the International Space Station on Sunday, December 6, 2015. Cygnus was the heaviest known (read: unclassified) payload lifted by the Atlas V to date, and used the 401 variant, meaning that no solid rocket boosters were employed. This turned out to be good news for all my lenses, but also meant that the rocket was very slow lifting off the pad, leading to a number of toppled cameras afterwards!
Orbital ATK is still working to return their Antares launch vehicle to operational status following the loss of the CRS-3 mission in October 2014. Currently, United Launch Alliance is contracted to carry one more Cygnus payload to the station, and Orbital ATK is tentatively planning on late May 2016 for a return to flight from Wallops Island.
Photos
---
Jared: Atlas V / Orbital ATK Cygnus OA-4 CRS-4
---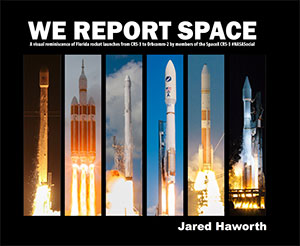 The Book
Stunning, full color photo book covering every east coast launch spanning 2014-2015, including the first-ever powered landing of a SpaceX Falcon 9 rocket.
More Info