The morning calm of Chincoteague Island and the surrounding Eastern Shore of Virginia was briefly interrupted by a powerful rocket launch from the Mid-Atlantic Regional Spaceport on November 2, 2019. Correspondent Will Smoot provides a first-hand account of launch viewing from Tom's Cove.
Read More
---
A day prior to the scheduled launch of Northrop Grumman's Antares 230+ rocket and Cygnus spacecraft, NASA presents a briefing on the various payloads traveling to the International Space Station.
Read More
Northrop Grumman closes out their participation in the CRS-1 contract with a beautiful, mid-afternoon launch from Virginia's Eastern Shore.
Read More
---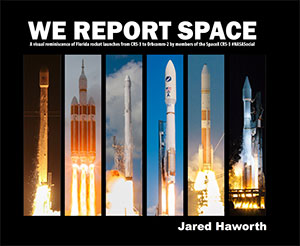 The Book
Stunning, full color photo book covering every east coast launch spanning 2014-2015, including the first-ever powered landing of a SpaceX Falcon 9 rocket.
More Info