ULA Vulcan arrives at Cape Canaveral
---
Port Canaveral, FL. – Yesterday morning, January 22, 2023 the latest addition to the United Launch Alliance (ULA) family of rockets was off-loaded from the transport vessel "Rocketship". This new Vulcan booster is a flight-worthy booster and will undergo a series of pre-launch tests before its inaugural launch later in 2023.
The Vulcan booster was built in Decatur, Alabama and made the journey by sea to arrive here at the Space Coast for the next step towards space. Also aboard "Rocketship" and off-loaded today were the Centaur section of the Vulcan rocket as well as the Interstage Adapter. Back on February 13, 2021, the ULA Vulcan "Pathfinder" also arrived on "Rocketship" for pad tests and other preparations for this day and the delivery the Vulcan booster for flight one.
In a statement from ULA: "The first Vulcan is complete, and we look forward to the test flight this year. Vulcan is a powerful rocket with a single core booster that is scalable for all missions including heavy class performance normally requiring a Delta IV Heavy configuration," said Tory Bruno, ULA's president and CEO. "Vulcan provides higher performance and greater affordability while continuing to deliver our unmatched reliability and orbital precision for all our customers across the national security, civil and commercial markets."
Cape Canaveral Space Force Station along with Kennedy Space Center will have a very busy launch schedule this year among the various launch providers and Launch Delta 45 here on along Florida's Space Coast.
---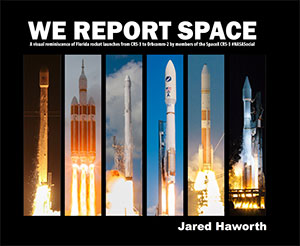 The Book
Stunning, full color photo book covering every east coast launch spanning 2014-2015, including the first-ever powered landing of a SpaceX Falcon 9 rocket.
More Info