SpaceX Launches CRS-23 Mission to ISS
---
KENNEDY SPACE CENTER -- Early this morning, August 29, 2021 at 3:14 AM EDT, SpaceX once again lit up the Space Coast skies with the launch from Complex 39-A of the Falcon 9 lofting the 23rd Crew Resupply Mission (CRS-23) to the International Space Station (I.S.S.). CRS-1 was launched on October 8, 2012 and the only Crew Resupply Mission not to reach the I.S.S. was CRS-7 that was launched on June 28, 2015.
Just over two minutes into the flight, the vehicle and Dragon capsule were lost in an explosion over the Atlantic Ocean. CRS-23 is taking cargo, experiments and supplies to the astronauts currently aboard the orbiting laboratory.
Japan's GITAI is sending to the station a robot that will be located in the Nanoracks Bishop Airlock section of the station. Shortly after launch, SpaceX successfully landed the rocket's first stage booster aboard the newest recovery ship "A Shortfall of Gravitas."
---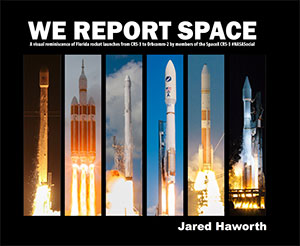 The Book
Stunning, full color photo book covering every east coast launch spanning 2014-2015, including the first-ever powered landing of a SpaceX Falcon 9 rocket.
More Info