SpaceX Catches Both Fairing Halves After Launch of Satellite for South Korea
---
CAPE CANAVERAL: At 5:30 PM on July 20, 2020, a SpaceX Falcon 9 rocket successfully launched the Anasis 2 military satellite for the South Korean government. The flight set a number of firsts.
The first-stage booster used for this flight was previously used on May 30, 2020 to send the Crew Dragon to the International Space Station. The 51-day turnaround time sets a record for re-use of an orbital class rocket. The previous record was held by Space Shuttle Atlantis at 54 days. The previous record for a Falcon 9 was 62 days. SpaceX CEO Elon Musk says the goal is to be able to re-fly a booster in 48 hours between launches.
But this launch marked another success that Musk had predicted in March 2017. With this launch, both halves of the payload fairing were caught by the nets of the fairing-catching ships Ms. Tree and Ms. Chief. It was back in March of 2017 that Musk explained his vision to catch the payload fairings. "Imagine you had $6 million in cash in a palette flying through the air, and it's going to smash into the ocean. Would you try to recover that?" Since then, the fairing halves, outfitted with steerable parachutes, have had several near misses and the ships have even caught a single fairing. Mostly, though, the fairing would narrowly miss the ship and then was scooped out of the ocean. This launch is the first time that SpaceX caught both fairing halves without them touching the ocean.
SpaceX has several more launches lined up. The Starlink & Blacksky payload is due to be launched from LC-39A. Later this month, the SAOCOM 1B satellite will launch from LC-40.
Photos
---
Falcon 9 / ANASIS-II (Michael Howard)
---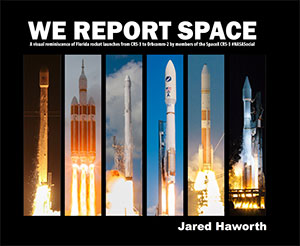 The Book
Stunning, full color photo book covering every east coast launch spanning 2014-2015, including the first-ever powered landing of a SpaceX Falcon 9 rocket.
More Info