SpaceX DEMO-2 is Away
---
At 3:22 EDT SpaceX and NASA successfully launched the Falcon 9 rocket topped by a Crew Dragon crewed by Astronauts Bob Behnken, Joint Operations Commander, and Doug Hurley, Spacecraft Commander.
At one minute into the flight the rocket reached Mach 1 and throttled back for the period of Maximum Dynamic Pressure. Approximately 9 minutes into the mission the Falcon 9 first stage landed on the drone ship "Of Course I Still Love You" and one minute later you could see one of the flight souvenirs / zero-G indicators floating in the capsule next to Bob. Approximately 12 minutes into the flight Crew Dragon separated from stage two, and Bob and Doug thanked SpaceX's Falcon 9 team for launching them safely into space.
The flight track took them northeast up the US Atlantic coast and toward the United Kingdom. One of the ground stations was on the island of Bermuda, and another in Shannon Ireland.
The next part of the mission will involve short burns on the maneuvering thrusters to finalize their orbit and docking with the ISS. During this time they will also be taking manual control of the vehicle verifying Astronaut flight and docking capability.
Watching from the site is always very thrilling, feeling the sound of the engines, having to turn your eyes away from the flame because they are so bright, and of course, the crowd excitement. Watching on NASA TV had much to offer that is different, just like watching sports on TV compared to being at the game.
Go SpaceX
Go Crew Dragon

Go Bob and Doug!

Photos
---
Falcon 9 / SpaceX Crew Demo-2 (Michael Seeley)
---
Falcon 9 / SpaceX Crew Demo-2 (Jared Haworth)
---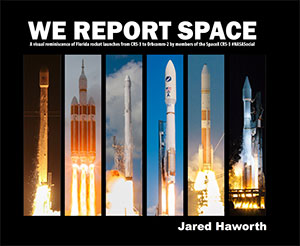 The Book
Stunning, full color photo book covering every east coast launch spanning 2014-2015, including the first-ever powered landing of a SpaceX Falcon 9 rocket.
More Info