TDRS-M Getting Ready for Launch
---
TITUSVILLE: NASA and Astrotech hosted media today for a look at the Tracking and Data Relay Satellite (TDRS-M) before encapsulation in advance of the launch scheduled for August 3, 2017 at 9:03 AM. On hand were Robert P. Buchanan, TDRS Deputy Project Manager from NASA Goddard Space Flight Center and Jim Jenkins, Boeing Launch Campaign Manager.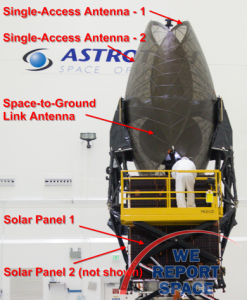 The spacecraft is on schedule according to Jenkins. It left California on a transport aircraft on June 22, 2017 and arrived in Titusville on the morning of June 23, 2017. Ingress to Astrotech took a week. Functional testing happened from June 27 - July 6. This involves 4 days of bus and payload testing and four days of propulsion. The spacecraft was fueled over five days: a day of preparation, then Oxygen loading, a day of crew rest, another day of preparation and then a day for Metal Hydride loading.
Friday, July 14, 2017 marks the start of combined operations, as United Launch Alliance will begin steps to encapsulate the spacecraft in the faring. The spacecraft will head to the Launch Complex 41 on June 25 to be mated to the Atlas V booster.
Launch is scheduled for August 3 at 9:02 AM. Shortly after booster separation, the fairing separates and the Centaur engine ignites, driving TDRS-M into a geosynchronous transfer orbit. Deployments start on the spacecraft quickly, with the two single-access antennas unfurling. Over the next 11 days, TDRS propels itself into geosynchronous orbit before beginning the rest of the deployments. First, one solar array unfolds to start to charge the batteries. Next, the single-access antennas deploy and lock into place. The second solar array then deploys, enabling the omni antenna to deploy and the space-to-ground link antenna to lock into place.
TDRS-M joins a constellation of other satellites that provide a valuable information pipeline for space-based research and exploration. The TDRS constellation provides a near-continuous global communications link for more than 35 spacecraft in Low Earth Orbit.
---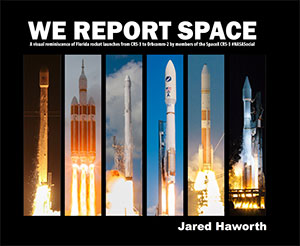 The Book
Stunning, full color photo book covering every east coast launch spanning 2014-2015, including the first-ever powered landing of a SpaceX Falcon 9 rocket.
More Info