Atlas V 421 rocket speeds NROL-61 to orbit
---
On July 28, 2016, the skies above Cape Canaveral, Florida were once again filled with the overwhelming light of solid rocket boosters, as United Launch Alliance sent the NROL-61 payload on its way to space, atop an Atlas V rocket. Lifting off at 8:37am local time, the rocket launched right at the opening of its planned 2+ hour window. On-time launch reliability is one of the major selling points of the Atlas V rocket when it comes to mission planning, and NROL-61 was no exception.
As is usual with National Reconnaissance Office launches, very little information was released to the media about this payload or its intended orbit in space; ULA's own launch coverage terminated just a few minutes into flight, ending at the request of the NRO just after the payload fairing was jettisoned.
Receiving almost attention as the launch itself was the unique mission artwork for NROL-61, depicting a lizard named "Spike" riding the Atlas V to orbit. The NRO has an established history of creating some very compelling mission designs, perhaps most notably a depiction of an octopus encircling the Earth, with the caption "Nothing is beyond our reach."
Per ULA, July 28th's launch was the sixth this year for the launch provider, and the 109th overall mission for ULA since its inception in 2006. NROL-61 was also the 65th Atlas V launch, which become operational in 2002.
Photos
---
Atlas V / NROL-61 Launch (Jared Haworth)
---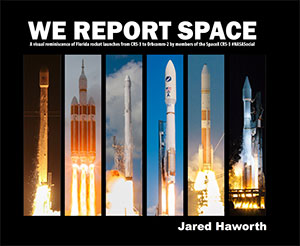 The Book
Stunning, full color photo book covering every east coast launch spanning 2014-2015, including the first-ever powered landing of a SpaceX Falcon 9 rocket.
More Info