SpaceX Scrubs 15th Starlink Launch
---
Cape Canaveral Air Force Station, Florida -- SpaceX attempted to launch the next installment of the Starlink Constellation of internet satellites from Launch Complex 40 on October 22, 2020. The scrub came after fueling of the Falcon 9 and just minutes before a planned T-zero of 12:14 PM EDT.
This is the 15th Starlink launch for the Falcon 9. Once launched this will bring the number of Starlink satellites to 895 of an estimated 12,000. In a statement from the SpaceX Twitter account:
Standing down from today's launch of Starlink to allow additional time for mission assurance work; will announce next launch opportunity once confirmed on the Range.
When liftoff does occur, SpaceX will be landing on the recovery ship "Just Read the Instructions". Starlink is targeting later this year for high speed internet service in the Northern U.S. and Canada to areas that have no access, unreliable access or simply too expensive to access.
---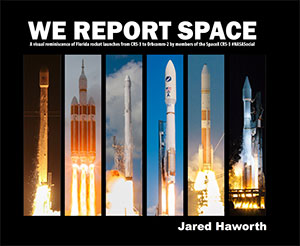 The Book
Stunning, full color photo book covering every east coast launch spanning 2014-2015, including the first-ever powered landing of a SpaceX Falcon 9 rocket.
More Info