OFT: What Went Right? Modified ULA Atlas-V Rocket Met All Test Objectives
---
KENNEDY SPACE CENTER: In the wake of the failure of the Boeing Starliner to successfully reach an orbit on track to reach the ISS, NASA Administrator Jim Bridenstine emphasized, "I want to start by making sure everybody knows that today a lot of things went right, and this is in fact why we test."
Tory Bruno, CEO of United Launch Alliance provided a list of the things that did go right: "So, as you know, this was the 81st flight of an Atlas V launch vehicle. But it was a uniquely configured Atlas V for the crew mission. It was a significant that it was a nominal flight. As Administrator Bridenstine said, there were a number of test objectives simply associated with that:
We successfully flew the capsule without a payload fairing.
The aerodynamic skirt that was added for control of aerodynamic loads functioned beautifully.
The ascent covers on the capsule separated nominally during flight
The aero skirts separated nominally.
We flew the flattened, low-g re-entry trajectory for crew safety purposes perfectly.
At the point of separation of the spacecraft we achieved those separation parameters and in fact literally hit a bulls-eye, with several parameters in the vanishing decimal points of accuracy."
"All of those activities worked just perfectly and satisfied those test objectives.
"Additionally we did have a forward-facing camera on the front of the Centaur that was able to observe the spacecraft separation. This was significant in terms of confirming Boeing's observations " that the Starliner capsule failed to execute the orbital insertion maneuver."

Later, Bruno remarked, "I will add that it is a long tradition in our industry that human safety transcended proprietary and issues like intellectual property. We are not going to ever withhold something that would put other people at risk."
Bridenstine, in his concluding remarks: "One of the biggest successes today was watching NASA, Boeing, and ULA teams work to make the right decisions for our astronauts and country. Teams worked quickly to ensure the spacecraft was in a stable orbit and preserved enough fuel to ensure a landing opportunity. "
According to updates from Boeing, in coordination with NASA, is working to return Starliner to White Sands, New Mexico, Sunday.
ULA's next launch is the NASA Solar Orbiter mission onboard an Atlas V 411. The launch is scheduled for Feb. 5, 2020, from Space Launch Complex-41 at Cape Canaveral Air Force Station.
---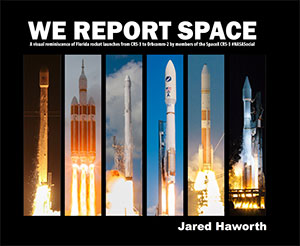 The Book
Stunning, full color photo book covering every east coast launch spanning 2014-2015, including the first-ever powered landing of a SpaceX Falcon 9 rocket.
More Info