SpaceX Re-Flies First Block 5 Booster After 88 Days for Merah Putih
---
CAPE CANAVERAL: On August 7, 2018 at 1:18 AM local time, SpaceX Booster Number 46 lifted the Merah Putih satellite to orbit for Telkom Indonesia. While this is the fifteenth time that SpaceX has re-flown a first-stage booster, this is the first time that they have re-flown their new Block 5 version of the booster. The booster originally launched Bangabandhu-1 on May 11, 2018. The 88 days to recover, refurbish, and re-fly the booster is significantly faster than the refurbishment times for previous versions.
The first booster to be re-flown was Core #21. This was known as a "Full Thrust" version of the booster and is now two generations old. That booster originally flew on April 8, 2016 for CRS-8 and then re-flew on March 30, 2017 for SES-10, a period of 356 days. Eight more of the Full Thrust boosters would re-fly, ranging from 160 to 620 days with an average time to refurbish of 308 days.
The next version of the booster, known as Block 4 had five cores that were re-flown. The average time to refly was 176 days. Those ranged from 72 days to 270 days.
Before the launch of the first Block 5, SpaceX CEO Elon Musk highlighted Block 5's reusability. In a May 10, 2018 call with Media, Musk said "One of the biggest goals of Block 5 is the ease of reusability. We are planning on being able to do 10 flights with no refurbishment between flight. We have to re-load propellant."
Musk went on to predict by the end of 2019 that a Block-5 would be able to make two orbital launches of the same core within 24 hours. For that to happen, the first launch would have to land at Cape Canaveral Air Force Station. Recent launches have landed on the autonomous drone ship Of Course I Still Love You (OCISLY). Although Bangabandhu launched on May 11, 2018, the drone ship did not return to Port Canaveral until May 15, 2018. Musk estimated that SpaceX spends $1.5 Million for an ocean recovery with a fleet of several support vessels accompanying OCISLY.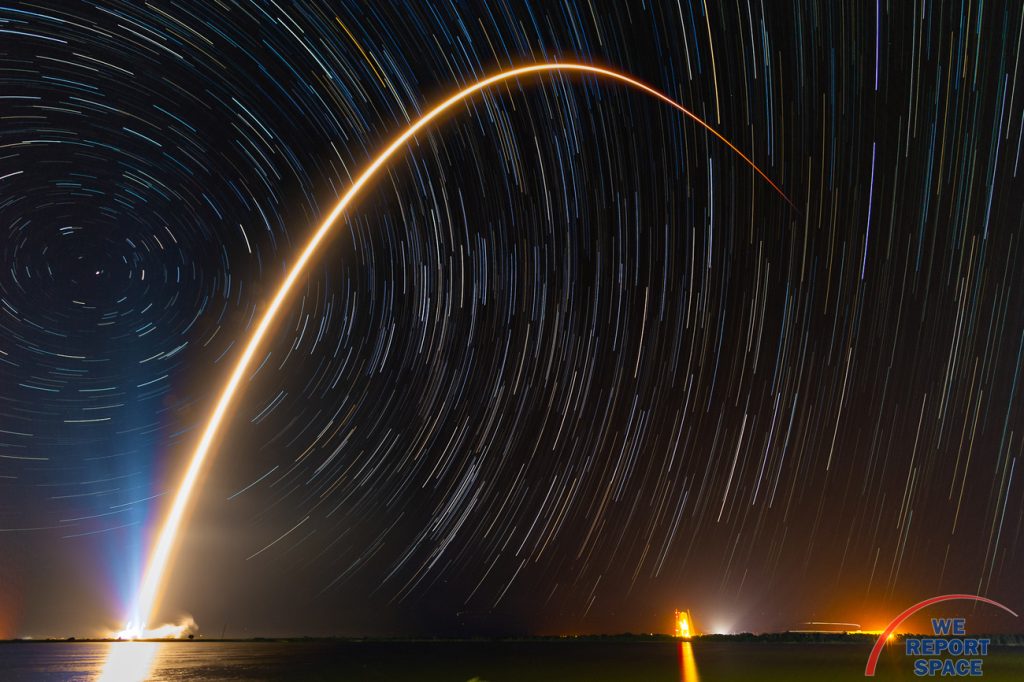 With Merah Putih being the first re-flown Block 5 booster, comparing photographs of the recently landed core on May 15, 2018 with the ready-to-refly booster on August 6, 2018 reveals several inspection points. While the burn marks above the landing leg were not removed, there are several vents and connectors that have been polished, likely for an inspection of the first re-flown Block 5 booster.
Merah Putih is a geostationary commercial communications satellite which will be operated at an orbital position of 108 degrees east. The satellite, built by SSL on their SSL 1300 platform, will be integrated into PT Telkom Indonesia's greater network to provide service to Indonesia and other areas in South and Southeast Asia. A contingent of 10 Telkom employees were present for the launch.
Merah Putih, which stands for the red and white colors of the Indonesian flag, will carry an all C-band payload capable of supporting a wide range of applications, including providing mobile broadband across Indonesia and Southeast Asia. The satellite is expected to have a service lifetime of 15 or more years. PT Telkom Indonesia is the largest telecommunications and network provider in Indonesia. The company offers a wide range of network and telecommunications services, including fixed wireline connections, cellular services, and internet and data communication services.
Barely 9 hours after the successful launch of Merah Putih, the next core arrived at SLC-40. Core #49 is expected to lift Telstar 18V during the third week of August.
Photos
---
Falcon 9 / Merah Putih (Bill and Mary Ellen Jelen)
---
Falcon 9 / Merah Putih (Michael Seeley)
---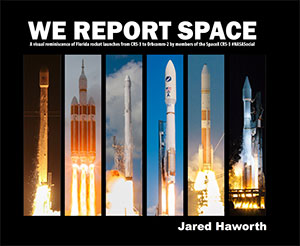 The Book
Stunning, full color photo book covering every east coast launch spanning 2014-2015, including the first-ever powered landing of a SpaceX Falcon 9 rocket.
More Info