Royal Family On Hand for GOVSat-1 Launch
---
CAPE CANAVERAL: On January 31, 2018, a SpaceX Falcon 9 rocket lifted off from Cape Canaveral Air Force Station Launch Complex 40 carrying GovSat-1. The satellite, built by Orbital-ATK, is the first satellite of GovSat, a public private partnership between the Government of Luxembourg and the world-leading satellite operator SES.
Etienne Schneider, Deputy Prime Minister and the Minister of the Economy, said, "Luxembourg has delivered on our pledge to increase our defense spending as a NATO ally in line with our defense commitments. We are thus providing an efficient and reliable solution for satellite communications that meets the increasingly sophisticated demands of our NATO allies. We are leveraging the competences of the Luxembourg space industry, which enjoys a great reputation worldwide and is further being developed through Luxembourg's SpaceResources.lu initiative."
Also in attendance for the launch were His Royal Highness, Prince Guillaume, Hereditary Grand Duke of Luxembourg and Her Royal Highness Stéphanie, Hereditary Grand Duchess of Luxembourg. They appeared at SLC-40 on the morning of January 30 for a photo opportunity with the rocket. They later toured KSC Visitor Center.
Leading up to the launch, speculation on the Internet was rampant: How could SpaceX recover the first stage of the Falcon 9 if the Autonomous Drone Ship, Of Course I Still Love You would be needed on February 6 for the demonstration launch of Falcon Heavy. Armchair rocket scientists proclaimed that SpaceX would not attempt to recover this flight-proven first stage. But, as the press toured the pad on the morning of January 30 - it was obvious that the Falcon 9 rocket still had the landing legs. Why would SpaceX have the extra weight of landing legs and grid fins if there was no planned attempt to recover the rocket?
John Taylor, Director of Communications for SpaceX explained the legs by saying that SpaceX was planning some landing maneuvers and might attempt a soft landing in the ocean. This is when the Falcon first stage attempts a landing maneuver on a drone ship that is not there. It has happened before - CRS-3 attempted a soft landing at sea.
Shortly after launch, SpaceX CEO Elon Musk tweeted a photo of the floating first stage: "This rocket was meant to test very high retrothrust landing in water so it didn't hurt the droneship, but amazingly it has survived. We will try to tow it back to shore."
Photos
---
Falcon 9 / GOVSat-1 Launch (Bill and Mary Ellen Jelen)
---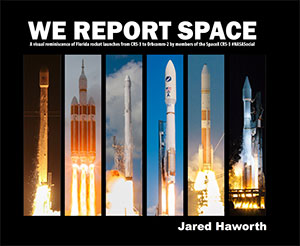 The Book
Stunning, full color photo book covering every east coast launch spanning 2014-2015, including the first-ever powered landing of a SpaceX Falcon 9 rocket.
More Info