Bill: Orion EFT-1 Launch
During our CRS-3 adventure, we had seen the actual Crew Pad Abort Escape System that was flying on this launch. It was during CRS-3, that I though ... wow - I should try to make it back to Florida to watch Orion lift off. Instead of getting a ride on the not-yet-ready Space Launch System, Orion was riding on a fairly rare configuration of a Delta IV Heavy. Three huge rocket cores sent Orion on it's one and half orbit trip to test re-entry.
I attended CRS-3 via NASA Social. On the causeway, I managed to find CRS-3 alumni Mike Seeley and Amy Thompson.
Photos
---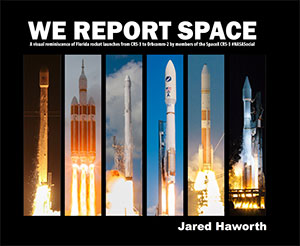 The Book
Stunning, full color photo book covering every east coast launch spanning 2014-2015, including the first-ever powered landing of a SpaceX Falcon 9 rocket.
More Info