Bill: CRS-3 Scrub 2
These photos are somewhat of a rarity because not many people showed up for Scrub 2. Many of us came for Scrub 1, even though the mission scrubbed the day before we were to arrive. In the case of Scrub 2, the news of the scrub arrived half a week before we were to arrive. Jason and the NASA Social team said there would be no activities. However, Margaret made the trip and Bill was already here, so we took a spin around KSC Visitor Center.
Also, as I look at these photos, I realize that I am borrowing a concept that I learned at the first attempt of CRS-3. I remember Kelly carrying around a fisheye lens in his back pocket. When it came time to get our picture taken under the external fuel tanks at the Atlantis exhibit, his lens got us all and the fuel tank as well. Now - a real fisheye lens costs over $500, but I bought a cheap little adapter that screws on to the end of a regular lens. This must have been my first weekend using the adapter, because I shot just about everything through the fisheye. Not suitable for a real news site, but fun, none-the-less.
Photos
---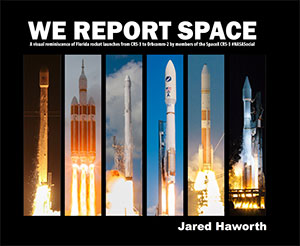 The Book
Stunning, full color photo book covering every east coast launch spanning 2014-2015, including the first-ever powered landing of a SpaceX Falcon 9 rocket.
More Info