Atlantis in the VAB - Bill
January 2012 was an amazing time to take the special tour at Kennedy Space Center VAB. For the first time since the 1960's, they were letting two tour groups each day walk into the VAB. On this particular day, there were two orbiters in the VAB. Both had flown their last flight. Atlantis was waiting for the new exhibit to be built. Security guards were there to make sure you did not cross the yellow line, but as you can see in the photos, you could walk right underneath the wings of Atlantis. If you craned your neck, you could see Endeavor.
Note: a few images from the Atlantis exhibit slipped in here. - Bill
Photos
---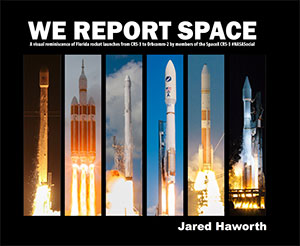 The Book
Stunning, full color photo book covering every east coast launch spanning 2014-2015, including the first-ever powered landing of a SpaceX Falcon 9 rocket.
More Info