OCISLY Returns to Port After Near-Miss of Falcon Heavy Center Core
---
PORT CANAVERAL: Just 47 hours after nearly being struck by a speeding Falcon Heavy center core traveling at 300 MPH, the OCISLY returned to Port Canaveral around 2PM on February 8, 2018. The Autonomous Drone Ship appears to be intact. There is no visible damage to the four thrusters. These photos were shot from Exploration Tower's 7th Floor Deck.
At the post-launch press conference, SpaceX CEO Elon Musk noted: "Only one of the center core's three engines ignited for the landing burn. I've been told that the core struck the water at 300 MPH about 100 meters from the drone ship. There is shrapnel on the deck and two of the four thrusters were damaged. But take this with a grain of salt. We aren't sure of the situation."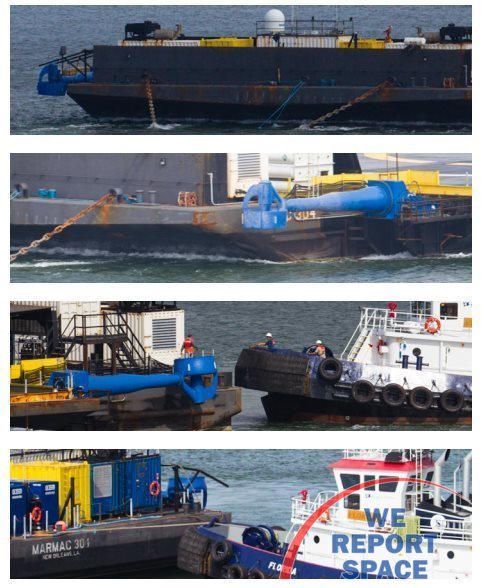 The next time OCISLY will be called in to service is the TESS mission on March 20, 2018. The next SpaceX launch from Florida is Hispasat on February 22. This is an expendable mission.
In other news, Mike Killian at AmericaSpace is reporting that the soft-landed booster from GovSat-1 has been intentionally destroyed by the United States Air Force.
This article was updated on February 8, 2018 to add details about the next use of the drone ship.
Photos
---
SpaceX Droneship returns empty after Falcon Heavy
---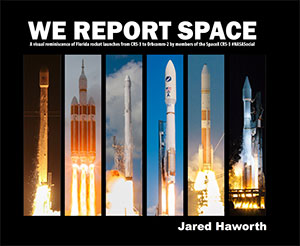 The Book
Stunning, full color photo book covering every east coast launch spanning 2014-2015, including the first-ever powered landing of a SpaceX Falcon 9 rocket.
More Info