Orbital ATK OA-6 Mission Launches for ISS
---
The skies over Florida were filled with the roar of rocket engines on March 22nd as the Orbital ATK OA-6 mission was lifted to orbit atop a United Launch Alliance (ULA) Atlas V launch vehicle. Carrying over 7,000 pounds of supplies, consumables and experiments to the International Space Station (ISS), OA-6 was the second joint mission between ULA and Orbital ATK to resupply the ISS.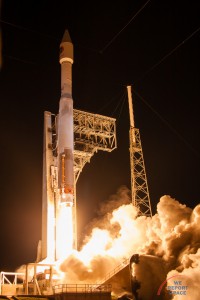 This partnership between ULA and Orbital ATK was born following the October 2014 loss of the ORB-3 mission aboard an Antares rocket launched from Wallops Island in Virginia. This is Atlas V's second flight to the ISS, the first being the OA-4 mission in December 2015. In contrast to December's OA-4 mission, which required four launch attempts due to inclement Florida weather, the OA-6 mission lifted off right at the opening of its 30 minute launch window, racing through thin cloud cover on its journey to low earth orbit.
The Cygnus spacecraft is a "one-way" ride to space, but will serve a valuable function after being unloaded; NASA will use the unloaded cargo module to study the effects of a larger-scale fire in an enclosed area in space, through their SAFFIRE experiment. Cygnus will also perform its traditional post-mission role, allowing the astronauts aboard the ISS to discard trash by way of the spacecraft disintegrating on re-entry to Earth's atmosphere. The successful launch of OA-6 marks the beginning of an increased tempo of resupply launches, with both Russian and American missions expected to launch in the next few weeks, bringing the supply of consumables aboard the ISS to a level which will last beyond December 2016.
Orbital ATK is preparing for their own Antares launch vehicle to return to flight this summer. The next two Antares cores, OA-7 and OA-5 are already on-site at Wallops Island, and will be used for a static fire & launch, respectively. Following the static fire of OA-7 (expected in May 2016), and launch of OA-5 (no earlier than late June), the OA-7 core will be processed for launch in October.
Photos
---
Atlas V / OA-6 Launch (Michael Seeley)
---
Atlas V / OA-6 Launch (Jared Haworth)
---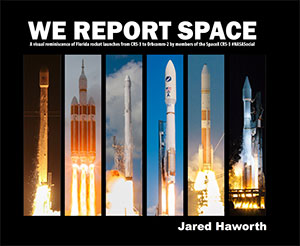 The Book
Stunning, full color photo book covering every east coast launch spanning 2014-2015, including the first-ever powered landing of a SpaceX Falcon 9 rocket.
More Info